HubSpot™ is a comprehensive and continually improving suite of tools designed to help businesses find more customers and better serve them. The platform has a tool for building best in class websites; it has a configurable and user-friendly customer relationship management system or CRM and a range of customer service applications.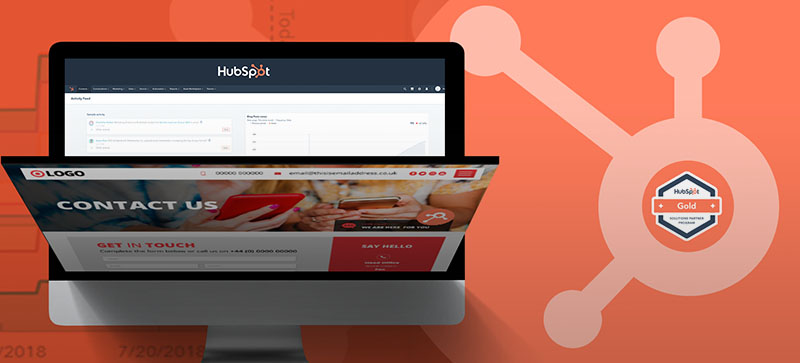 If you've decided to use Hubspot, you've made a great choice, but you're probably keen to get the most from your investment, and as a result, you're probably asking yourself, what are the benefits of working with a Hubspot partner agency who can provide the level of onboarding services you need?
In this article, we cover the range of expertise required to get the most from HubSpot in an attempt to let you decide if you have the capabilities needed in-house. In some respects, it's similar to working with a website management agency only focusing on HubSpot and its lead-generation capabilities.
For those who prefer to watch and listen, this video summarises the blog post.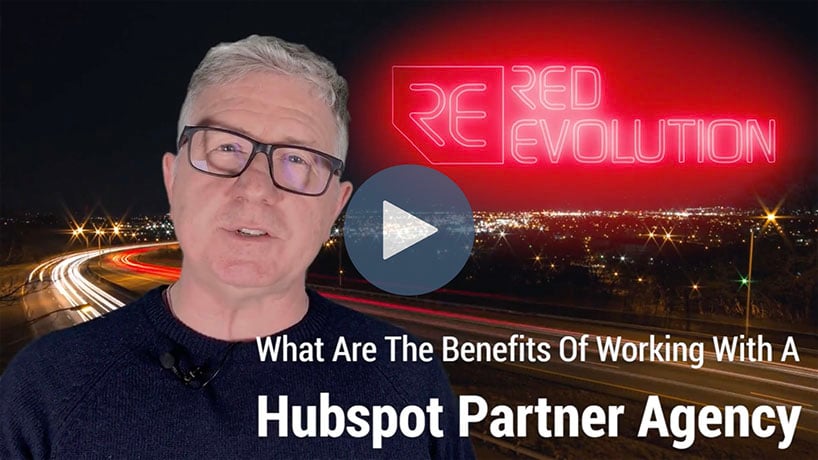 If you're still at the point where you're not sure what HubSpot actually does then we've got a great plain English article explaining HubSpot and we've also recorded a podcast called what the hell is HubSpot.


---
Don't Buy Hubspot Until You
Understand How You're Going To Use It.


Getting to the point where you've decided to invest in the Hubspot platform takes time. At the start of the process, you're perhaps somewhat cost-driven. That's because, like most businesses, this is likely to be your first venture into the world of marketing and customer management software.
In our experience, most businesses do take a while to decide they are ready to invest, but once they get there, it's all systems go. So we suggest a different approach.
---
Have You Got The In-House
Skills To Use Hubspot?


Far too many times, we've been given access to a company's Hubspot portal only to find a field of shattered dreams. Lists of users who last logged in 12 months ago, half baked marketing campaigns and CRM's achieving nothing of significance.
In this situation, nobody is winning. The business owner isn't getting any value, and because of this, there's a likelihood that the HubSpot subscription will be cancelled, so HubSpot is not getting any value either.
This happens despite HubSpot's insistence that businesses who buy their software pay for and go through an onboarding process. So what's going wrong?


---

An Onboarding Process
Does Not Guarantee Success

When you buy HubSpot, you either go through an onboarding process with HubSpot or a suitably qualified HubSpot partner agency. On the face of it, this sounds like a good idea.
During the process, you will be shown how to use the tools you've decided to buy and guided as you start on your inbound marketing journey. So far, so good.
In this respect, HubSpot is clever. They know their software is too complex to sell without onboarding or, to put it more simply, training. They understand that businesses who don't get value from their platform are likely to ditch it, meaning they would constantly be churning customers.
The problem for business owners is that they can be seduced into thinking that the onboarding process will set them up for success, but it won't.
If you haven't got the required expertise in-house, HubSpot will simply lull you into a false sense of security and lighten your bank account to the tune of £500, £700 or £1000 a month. This is because, on its own, HubSpot is nothing more than a clever piece of software that helps marketing and business development teams do their job more effectively.
So if you haven't got an in-house team of marketing professionals or are not planning on building an in-house team as part of your business growth plans, you'll benefit from working with a HubSpot partner agency. Here's why.


---

HubSpot Helps
Implement Good Strategies


If you've taken the time to create a strategy that you believe will help your business grow, HubSpot will massively improve its execution. Incidentally, a lack of effective implementation is the number one reason most strategies fail, but that's a massive subject and not something we'll deal with here.

If you're interested in learning more, this blog post written by strategy execution specialists Alertise is a great place to start.
Ultimately, a well thought out digital marketing strategy delivered using software created to help with that endeavour is a killer combo. But, conversely, thinking HubSpot is the strategy means you're going to struggle.
If you need only one reason to work with a HubSpot partner, then finding an agency that can make sure you create a strategy for online success is precisely that.


---

Great User Experiences
Don't Design Themselves


HubSpot's email newsletter, web page, landing page and blog page creation tools are quite simply beautiful. Using off the shelf templates will allow you to create great-looking content without any creative input from a design agency. Great looking content that looks the same as everybody else's great-looking content, that is.
We're saying that if your business wants to create genuinely memorable user experiences that build on your existing brand, you're going to do a much better job if a B2B web design agency is involved in the process. Engaging with an agency is an excellent option if you can't justify hiring your own web or graphic design specialist.
Your ideal customers use every aspect of your external communications to form opinions about your organisation. If you do a presentation using a poor PowerPoint or Keynote, it damages your reputation. If you send out a poorly designed newsletter, it gets ignored. If your website looks homespun, you could be out of the picture when people look for the products or services you sell.


In short, good design pays for itself many times over, and, sadly, HubSpot will not make you a good designer even though its ease of use is a have-a-go hero's dream come true.
Creative input is vital for getting the most from your HubSpot investment. Working with an agency partner is a tried and tested solution to this aspect of your inbound marketing program.


---

Content Doesn't Create Itself


If you want your ideal customers to find you online, having a sound content strategy is closely linked with online success. Content is pretty much the only way you're going to secure solid search engine rankings, website traffic and enquiries.


The alternative is to buy all your website visitors using Google Ads or LinkedIn Ads. Still, even then, you'll need compelling copy to convert people who see your adverts into customers.
Digital marketing agencies not only know how to create fantastic copy, including videos and podcasts, but they do the hard yards required to make sure the copy created is what your ideal customers are searching for in Google.
Their skill and knowledge concerning the research and analysis required around the subject of website content are vital to the success of your digital marketing campaign.
They will be able to analyse your market, your competition and the merits or otherwise of the web pages dominating the search results pages to make sure you are taking the right approach with your content strategy.
They will also interrogate the available data in your Google Search Console, or, as is often the case, if you don't have access to it, they will make sure you do.
If you're looking for just one compelling reason to work with a HubSpot partner, this is it.


---

How's Your Sales Process Looking?


Your main driver for buying into HubSpot is to accelerate business growth. If it isn't, you've been barking up the wrong tree. A make or break aspect of business growth is your sales process. No amount of website traffic and inquiries will make up for a broken sales process.
So if you're buying into the HubSpot ecosystem, you're probably going to use their CRM or integrate your existing customer relationship tool of choice, such as SalesForce.
The right partner will ensure you don't join the army of businesses that have failed to embrace and get tangible value from their CRM tool of choice.
The concept of a CRM system is simple; it helps better understand and serve your customers and make sure you're delivering a complete range of services to them, and by definition, not leaving any money on the table. It might sound somewhat mercenary, but it isn't.
The fact is, if your client needs services X, Y & Z and you're only selling them X & Y, they're buying Z from another partner. Even worse, by allowing someone else to provide service Z, they might even persuade them to buy X & Y from them as well! And all because you didn't realise there was an opportunity to sell them more of your services or to frame that more positively, you didn't fully understand their needs.

A correctly configured CRM can bring sales order to sales chaos. It will make your customers interaction with your organisation slicker, build a stronger relationship and help you get more from people who already know, like and trust you.
Working with a HubSpot partner on your CRM implementation and roll-out project will ensure your investment generates a return and significantly improves your sales and process.


---

Still Not Convinced?


HubSpot prides itself in creating beautiful, user-friendly software, and there's no doubt that you could get value from it without working with a partner agency.
But this article should have illustrated how working with a partner who knows this fantastic business growth suite inside out is a wise choice that will fast-track your system adoption and speed up your return on your investment.
The tips, tricks and insights they will bring reach much further than the software alone will ever deliver. Even HubSpot will tell you that, and they make their money even if you do nothing with the software and just let it sit there like a white elephant.
Even if you hire a new member of staff who's used and knows HubSpot, it's unlikely they will be able to help you in the way a team of agency professionals can unless they're superhuman.


We're biased. We're a digital marketing agency that people hire to become their HubSpot partner, but we created this post to explain why working with a partner makes sense. We've seen people buy HubSpot and either underutilise or, worse, never utilise its incredible suite of business growth tools. Every example represents an opportunity missed, business growth targets not delivered, and underutilised customer relationships. Having an agency partner all but guarantees this doesn't happen.


---

So What Are You Going To Do?


Has this article convinced you of the benefits of working with a HubSpot partner agency? Hopefully, it has, so once you've chosen the right team to help you, you'll be well on your way to inbound success.
Your website will look fantastic and be full of the content your ideal customers need. Your Google search rankings will be the envy of your competitors and will be bringing in enquiries from people who need what you're selling.
Your sales team will have the systems and processes they need to help prospects, turning them into customers. From there, you'll be able to maximise the value you get from these new relationships using your perfectly configured CRM.
This can be delivered fast and effectively if you work with a partner who knows how to get the most from HubSpot. Instead of joining the ranks of the businesses that pay for this system and do nothing with it, you'll get the value it delivers to those who choose the proven partner approach.
If you'd like to discuss how you're currently using HubSpot to see if there are any quick wins, please get in touch with us to arrange a free no-obligation consultation. You might discover you're a HubSpot rockstar who's killing it, or you might learn something that means you can get even more from this fantastic software.
Suppose you're simply unsure how marketing automation systems like HubSpot, Pardot, Marketo or Eloqua can accelerate your business growth plans. In that case, we'd also love to chat to answer your questions and help you make the right choices.
We're a business that has successfully used software in our marketing mix, and we now use it to power our growth. It helps us get the maximum value from the work we put into our strategy, design and content creation, and we've got no doubt it would do the same for you.
Want to discuss how HubSpot and the inbound marketing approach to business growth can fast forward your business? Simply get in touch.